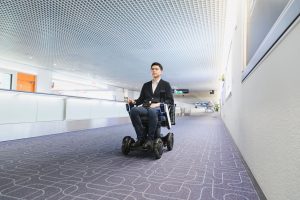 Passengers with reduced or limited mobility traveling through Haneda International Airport in Tokyo can now use the WHILL Autonomous Mobility Service—eliminating the need for human "pushers" to get them to their gate, promoting social distancing.
This implementation comes after 11 trials with close to 400 people testing the technology in airports around the world, including Dallas/Fort Worth International Airport, Abu Dhabi International Airport, Winnipeg International Airport and John F. Kennedy International Airport. The four-wheeled autonomous solution allows for touchscreen commands to take a passenger directly to his or her gate or to shop or stop for a meal before a flight, a freedom unavailable when relying on a pusher. It also eliminates a human interaction, reducing the likelihood of COVID-19 exposure, Kerry Renaud, CEO/managing director for Scootaround/WHILL North America said during a press conference announcing the deployment.
COVID-19 has resulted in a long list of challenges for airports, including operating with reduced staff, putting new noncontact initiatives in place, increasing sanitation efforts and regaining customer trust, Renaud said. Adding this type of technology helps ease the burden on staff members and gives passengers an easy, contactless way to travel through the airport.
"It makes social distancing possible without affecting the overall service," Renaud said. "There's no need for direct touch points between staff members and the user with this new technology."
And instead of waiting 15 to 20 minutes for a pusher to become available, which could lead to extra stress and delayed flights, customers can go directly to the WHILL station, located near the security gate, and choose a system. After they load their luggage, enter their destination and start the autopilot, they're on their way, said Kharisma Nitiputra of WHILL's mobility as a service (MaaS) business unit. After safely dropping customers off at their requested location, the vehicle automatically returns to the WHILL station on its own.
WHILL's Autonomous Drive System, which powers the vehicles, is compatible with WHILL Autonomous Models, which are equipped with autonomous driving, anti-collision function. The Autonomous Drive System can manage and operate multiple devices simultaneously. The self-driving works by layering surrounding information its sensors detect with map information collected in advance.
The initial deployment in Haneda International Airport will include gates 3 through 7 in Terminal 1, Nitiputra said. The systems will be integrated with the airport's existing push service. The WHILL team will work closely with the staff to ensure a seamless integration and operation, and that includes disinfecting the systems after each use and making sure batteries are charged. There will be three systems available at first, but that number could increase based on demand.
While airports are a key focus for WHILL and more deployments are expected, many other areas could benefit from this technology, Renaud said. Hospitals, convention centers, large resorts, and amusement parks are among the other places WHILL vehicles can transport guests with limited mobility, improving their experience while also promoting social distancing.
"We recognize that COVID is still continuing to proliferate through the world and the world is addressing that as best it can," Renaud said. "We're focused on creating a potential solution for one aspect, particularly as travel resumes."