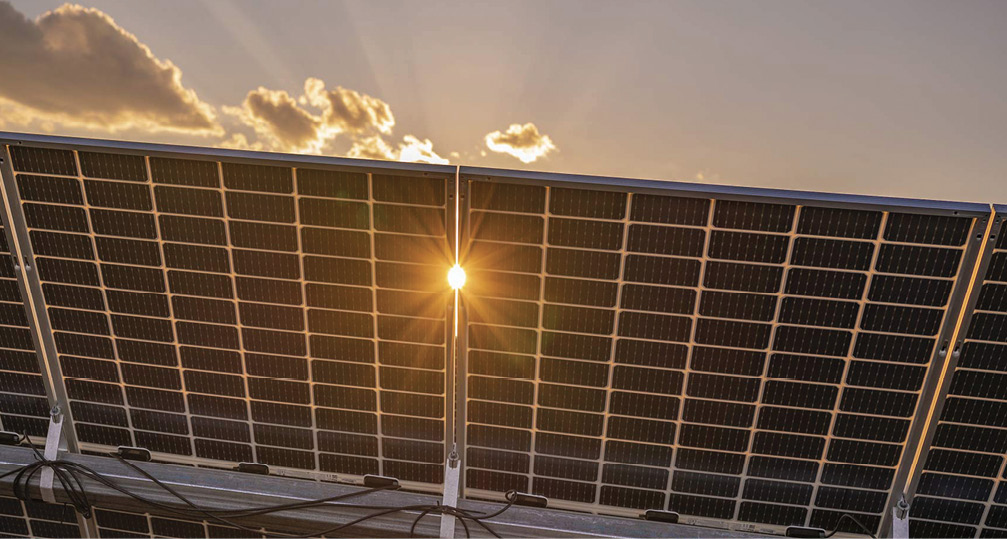 "Now we're doing things Texas-style, big!"
Sounds like an oil man talking about a newly discovered field, doesn't it? Actually, though, the excitement comes from Antonio Cammisecra, the CEO of Enel Green Power, celebrating the September 1 start of second phase generation at the Roadrunner Solar Project in Upton County, Texas. Founded 60 years ago as the national electric company for Italy, parent company Enel has morphed into one of the world's largest operators of renewable energy sites, generating 46 gigawatts today with a target of 60 gigawatts by 2022. Subsidiary Enel Green Power (EGP) dates to 2008, and its mission embraces sustainability and decarbonization/carbon neutrality by 2050 (Roadrunner will produce 1.2 terrawatt hours annually while avoiding more than 800,000 tons of CO2 emissions).
Completed in just 19 months, Roadrunner now has 497 megawatts of capacity, making it the largest operational solar farm in Texas. Add the wind power of High Lonesome, the company's 500 megawatt wind farm just down the road from Roadrunner, and that's a gigawatt within a half-hour of each other.
Even Enel's stats are just a hint of a worldwide rise in renewables: global grid-connected solar capacity reached 580.1 GW at the end of 2019, according to pv-magazine.com.
"I went there last summer," Sander Cohan, EGP's director of innovation, recalled about visiting Roadrunner from his Andover, Massachusetts, office. "There was a whole lot of nothin'—except for cactus." But beauty is in the eye of a green-power beholder, especially when it now comes with 1.2 million bifacial panels over 2,770 acres. "Lots of sun; it's a beautiful site." One enabled by drone and sensor technology.
Green Roots for UAS
Enel Green Power began its UAS program three years ago. "It started as a conversation between me and our GIS manager, who is a UAS enthusiast," Cohan recalled. "'Hey, how can we start using drones to improve our operations?' We settled on a couple of different use cases. One was blade inspections for wind turbines. The other was Roadrunner-relevant: 'How do you use a drone mounted with a thermal camera to identify faults and cameras in a solar field?'"
Feasibility studies with several small companies reflected Cohan's interest in seeing how technology—in this case drone technology—can be built and proliferated. "The short answer was, 'Yes.' The longer answer was, 'Yes, but it needed to be at scale.' The costs started getting crazy when you had a one-off inspection. We've been working for the last few years to train pilots and purchase drones and have them available onsite. Having a pilot there who is adept and able to analyze photogrammetry information, go out, fly a site, see a fault in a solar panel, identify where that panel is and enable a report. That really turns a days-long process to a minutes-long process."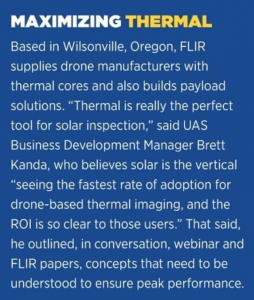 Cohan's academic training at Johns Hopkins was at the nexus of energy and finance in international relations, so he zeroed in on how UAS inform different magnitudes of cost avoidance. "It's the difference between operations and maintenance problems versus engineering and construction problems," he noted. "In O&M, you use unmanned systems to solve things that are in thousands to tens of thousands of dollars, sometimes in the hundreds of thousands. You fly more frequently but you capture more of these problems, these opportunities that yield savings all along the project.
"To detect a construction error, when you avoid one, you're saving in the hundreds of thousands to millions of dollars. Unmanned systems allow you to get a more holistic view of the site."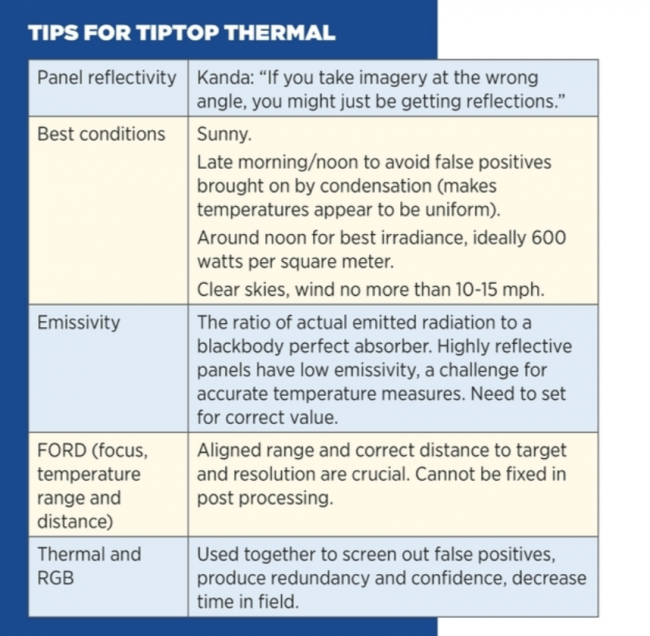 Flying the Wide Open Spaces
Drone use at solar projects can cover several stages. Developmental analysis examines land rights, site suitability and a potential model. Build, operational and maintenance stages follow. And repowering evaluation is needed at the end of a facility's lifecycle, to decide whether to reinvest in or replace the site.
"We've been using drones all throughout the process," Cohan said. "First, as part of the business development cycle: do a drone flight and understand if a site is acceptable or not to develop, before you hire a surveyor to do the formal study. That's a key first pass—it makes you understand whether you're spending your development dollars correctly."
Early in Roadrunner's development, Cohan continued, "our construction contractor used drones to collect topographical data to help plan their approach." UAS use also was key at the end of each construction phase. "We're looking at a bunch of different ways to use aerial imagery to understand construction site progress, and that's mostly to take what is still largely a pen and pencil on a paper process and provide a more sophisticated approach. Part of that is, principally, to be precise."
As the Roadrunner project continued, the team realized the advantages drones offer in speed, ease and cost. "Spot inspections are a great example. If a pilot wanted to go check a transmission line that got struck by lightning or blown over by wind, he could go out and diagnose a problem very quickly.
"The good news is that there weren't any surprises. That speaks to the expertise of our construction team and our partners. Any problems were part and parcel of the construction process. You wouldn't have been able to check them with UAS anyway."
Cohan and I spoke just two weeks after Roadrunner's full opening. "We're still processing a lot of data." He looked forward to the lessons to be learned.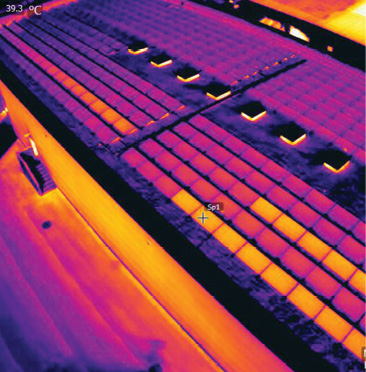 Vehicles and Sensors
Enel Green Power flies mostly DJI Mavics and Phantoms. "For most of the spot activity we don't need an air force-quality drone; you need something where our operator can have a drone in his truck," Cohan explained. Solar requires a larger sensor and granularity, so the company uses the Matrice M210.
"Primarily, we started off with ease of procurement." That may evolve. "With the line of sight issue, the relationships between the pilot and the machine will change substantially. We'll be using them for more applications, not just inspections but also for safety."
Flying, though, is just one component of a successful project. EGP employed a frequent pairing—FLIR's Zenmuse XT2 thermal imaging solution and Raptor Maps' process analysis software—to replace labor-intensive, time-consuming and information-delayed manual inspection.
"The FLIR thermal sensors are our primary weapon," Cohan said. The Zenmuse XT2 that EGP used combines FLIR's Tau 2 thermal sensor and a 4K RGB visual camera to check for potential anomalies from vegetation covering to bird droppings. "We use the FLIR sensors because they have the resolution we need to do those inspections."
FLIR UAS Business Systems Development Manager Brett Kanda delved further into those thermal capabilities. "Drone technology today has allowed people to deploy a valuable asset at a price that is palatable," Kanda said. "And frankly, it's just easier.
"If you have a string out, a cell that's out, that means less production, and the less productive a site is, the less valuable it is," Kanda continued. "Thermal images allow you to see consistencies within each cell and with each string of solar panels. It's very easy to see with a thermal camera what cells might be overheating or completely out, because it will come up with a different thermal signature. That's not something you can see with a normal RGB camera. 
"That's the value. With drone imagery, you can essentially go up, fly, take 100, 200, 300 images, maybe a 5-to-10 minute video, land and send those deliverables off to the decision-makers immediately. It's real-time data."
Cohan noted the need for repeated thermal use. "You have to run a couple of different flights, you have to have the right conditions to get the data you need. To do this analysis requires a little bit of luck on the weather side, a little bit of skill on the pilot side. You have to be a little bit flexible in your schedule to get it right." But, he added, "it speeds the process of identifying the maintenance activity substantially and there's cost savings."
Commissioning Compadres
Cohan also identified Raptor Maps as an important player in Roadrunner's ramp-up. "Raptor Maps specifically doesn't fly drones," he said. "What they do is analyze data from drones for solar analysis. They have a machine learning model to identify and categorize faults." 
Raptor Maps participated in "the key step" on the commissioning side, which Cohan said is "to understand what parts might be needed to fix before we hand it over to our operators. Once you finish building the solar field and you've energized it, you have the ability to do the flight with the thermal camera and understand hot spots."
Raptor Maps co-founder/CEO Nikhil Vadhavkar agreed on the importance of commissioning-stage analysis. "The site is powered up and set for the owners to take over. We have to create that baseline record showing that it is up to spec."
Vadhavkar's links to Enel Green Power date back to his Ph.D. candidacy at MIT. He was researching thermal control units for space suits, but visiting one of Enel Green Power's project sparked interest in the real-world applications of drone technology. Vadhavkar subsequently encountered Cohan when Cohan facilitated a joint proposal for MassCEC, a clean energy incubator. "It really impressed us working with him personally, but also working with Enel Green Power."
Thermal stayed, but space suits gave way to making drone technology scalable within a "solar software company." Raptor Map's goal became: "provide immediate value and at the same time create this longer system that's going to pay our customers dividends far into the future."
Rapture Maps' analysis aligned with the commissioning of each of Roadrunner's two phases. Runs were coordinated with sunlight on the system. "You can call it a 'stress test,'" Vadhavkar continued. "If there's no load in the system, you're not going to see anything useful."
On the sensor side, Raptor Maps collaborates frequently with FLIR. "They make great sensors," Vadhavkar said, "and we both want to make sure those sensors are used in the proper manner to leverage this technology for sustainability." Roadrunner's site/as-built information and historic data were uploaded and digitized into Raptor App, the company's solar lifecycle management software. Simultaneous high resolution color and radiometric thermal data were gathered in-flight. "The quality of the data is paramount," Vadhavkar said, with machine learning algorithms analyzing each image to detect anomalies. "Post processing and the actual data acquisition are very fast because you don't require overlaps and sidelaps that you would require from a normal mapping mission."
The process digs into causation and the output is actionable data. "No one wants to know there's a hot spot," Vadhavkar said. "They want to know why there is a hot spot."
"What Enel Green Power is getting," Vadhavkar said with a laugh, "is an email." Of course, there's more, including cloud-based reports identifying and prioritizing anomalies for their structural—and financial—impact on energy production. The rich data is relevant to users from the C suite to the field, Vadhavkar said. "Practically, you've given them the ability to start at a macro level to understand what is going on, and then you move down incredibly quickly into what they need to do to move forward. They can dispatch technicians and incorporate results into the position assessments for all their other solar farms; they can add the construction company that might be doing the actual boots-on-the-ground work. They also, very importantly, get to interact with the original data.
"It was really exciting to put that data together to help project managers understand how they could assure Roadrunner was performing at peak capacity."
Going Forward
"This has become part of our regular operation," Cohan said about collaborating with Raptor Maps. "We've been working with them to incorporate their data into our workflow, and then to figure out ways to use the processing power on a drone or on a tablet to speed the process of analysis. One inspection is great, 10 inspections is amazing. You start seeing trends and patterns, and adjust your workflow accordingly.
"What we see at Roadrunner is a broader push into digitization and automation," Cohan continued. "The drone's at the end of the string; there is an entire chain behind it of processing and data transmission that also need support, development and innovation to incorporate all this data that's been collected at the edge of the system."
Raptor Maps now has surveyed 25 gigawatts of solar for hundreds of large and small customers across 35 countries—"not too shabby," Vadhavkar said. "We work with Enel all over the world. That enables them to do comparisons and benchmarks. They can start to identify trends and share that with each other."
Vadhavkar sees clear skies for solar analysis. "Software and unmanned technology in general are catalyzing the digitization of solar. We're enabling standardization and we're enabling the solar industry to scale. It's not the fact that we produced a deliverable, it's the fact that we produce in a very repeatable, transparent, auditable way that's enabled the high-level decisionmakers all the way down to the people that need to go through the punch list."
At the end of the day, Vadhavkar ties his "green-ness" to a "green meets green" perspective that resonates with Cohan's own doing good while doing well business considerations. "It's profit meets purpose. You have to make it compelling from a financial perspective. Then you don't have to convince people based on ideology. You're convincing them with entrepreneurship. This is what I love about what we do."