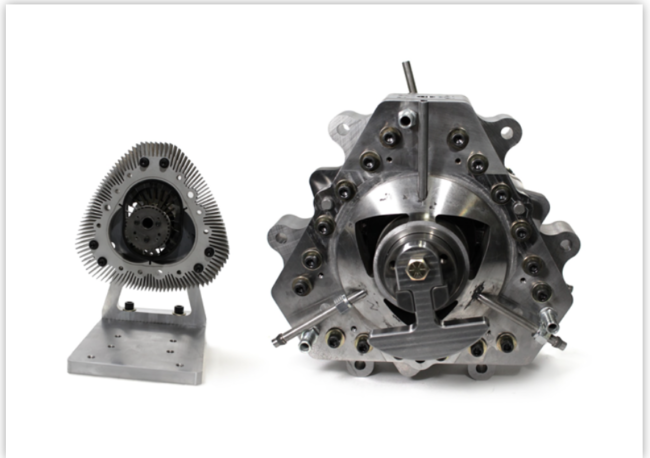 Fifteen years. Eighty-four issued or pending patents around innovative rotary-engine technology for air, land and sea. Working with the Department of Defense since 2016, as well as with the Defense Advanced Research Projects Agency and the U.S. Army.
Now, LiquidPiston, a Bloomfield, Connecticut-based developer of advanced power solutions, has moved closer to fielding its technology.
"We're working with the Army on a new $9 million contract to develop a 25-horsepower heavy fuel variant of our engine," CEO Alexander Shkolnik said. "It's based on a new and improved rotary engine, called the X-Engine." The engine reportedly offers up to 60% longer flight duration and 30% less fuel consumption while dramatically reducing size and weight.
Shkolnik outlined what he sees as the moment for this rotary technology. "Today's UAVs, unfortunately, between 5 and 100 horsepower, they really don't have good heavy-fuel engine solutions. So, this is a white space that we're hoping to address. We think that the market is very overdue for a disruptive innovation. There's a big push for more capability from a smaller package."
To this end, he referenced a fairly well-known predecessor, the Wankel rotary engine. "By turning it inside out, which is kind of what we did here, we've solved the challenges the old rotaries had while preserving its advantages of power to weight and efficiency."
Challenges in sealing, cooling, lubrication, emissions and efficiency are addressed even as the design offers a higher compression ratio, constant-volume combustion and over-expansion.
Variations on a Theme
Shkolnik delved into the rationale for his solution. "The company is based on a new, optimized thermodynamic cycle called the High-Efficiency Hybrid Cycle [HEHC]. We've really been in pursuit of that cycle. The first idea was a liquid piston engine. This is our fourth completely different engine architecture in pursuit of that cycle."
He literally pointed out the technology of three current versions sitting on a table in front of him. The largest but still compact type—the XTS-210—"is "a liquid-cooled, two-stroke supercharged variant. On the two-stroke, both sides of the rotor are performing combustion, so now we end up with six combustion events per each revolution of the rotor."
A second type, the X Mini, is "probably our most advanced prototype." It runs on heavy fuel, which the Army is embracing for logistical compatibility, but can fly on diesel, gasoline and other fuels. It also is optimized for hybrid-electric application and can transit from quiet electric cruise back to engine power with mid-air engine restart. The Mini is flying now but is not yet commercially available.
Also small, a four-stroke rotary variant thrives on simplicity, Shkolnik said. "There are just two moving parts: rotor and shaft. Yet it behaves like a three-cylinder engine. Very few parts¬—a simple, elegant design…you get three combustion events for every revolution of the rotor."
The conversation shifted back to the Army's interest in the X2. "We're in the late stages of development now. We're going to deliver advanced prototypes to the Army late next year. It should be ready to bolt into the aircraft and fly."