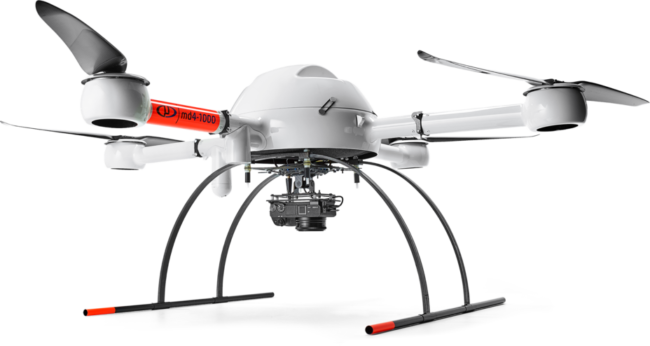 Rome, NY —  Microdrones will be a main contributor at this year's Commercial UAV Expo of Americas offering a series of drone workshops at the event and an in-depth technical symposium following the conclusion of the Expo. Dr. Mohamed Mostafa, Director of mdSolutions at Microdrones, who is well-known for his expertise in the geomatics community, will be a key presenter at both events.
The conference takes place October 1-3 at the Westgate in Las Vegas. On Monday, October 1, Microdrones will present three workshops to help geomatics professionals make sense out of making drones a part of their work. Interested professionals can act now and pre-register for FREE at the following link:  http://lp.microdrones.com/CUAV/. Otherwise, the cost of each workshop, the week of the event, will be $50 per session or $150 for all three.
At the first workshop, Tools not Toys, from 8:00 am to 10:00 am, Mostafa will discuss how to achieve professional grade surveying with drones. Next, he will give a Microdrones product overview and user showcase from 10:00 am to 12:00 pm, followed by a Lunch & Learn from 12:00 pm to 2:00 pm to discuss the top 10 questions about using drones for surveying.
Related Reading: Microdrones Continues Global Growth with Australian Expansion 
On Oct. 4, attendees of the Commercial UAV Expo are invited to join ASPRS for an additional in-depth technical symposium led by Mostafa. Registration at the Commercial UAV Expo is required and the ASPRS UAS Symposium is an optional add-on event. Register to attend at the following link: https://xpressreg.net/register/uava1018/.
At the ASPRS Symposium, a detailed technical discussion on high precision mapping by drones will be presented including LiDAR, photogrammetry, GNSS, inertial, datums, post processing, best practice, and quality control. Real World data sets acquired in the U.S. and Canada will be utilized to demonstrate the concepts and best practice of precision mapping by drones.
Mostafa has a Ph.D. in Geomatics Engineering from the University of Calgary and more than 18 years of experience in system design, development, integration, calibration, and quality control. He has managed and delivered projects in the United States, Canada, Europe, Africa, and the Middle East and has contributed to more than 160 technical publications, including the Manual of Photogrammetry 5th edition and the DEM User Manual. He served as Vice President of Commission 1 (sensors and platforms) for the International Society for Photogrammetry and Remote Sensing (ISPRS) and as the Chair of the Direct Georeferencing Committee of the American Society for Photogrammetry and Remote Sensing (ASPRS). Currently he serves as the Chair of the ASPRS Precision Mapping by UAS Committee. He has won 11 international awards over the last 26 years.