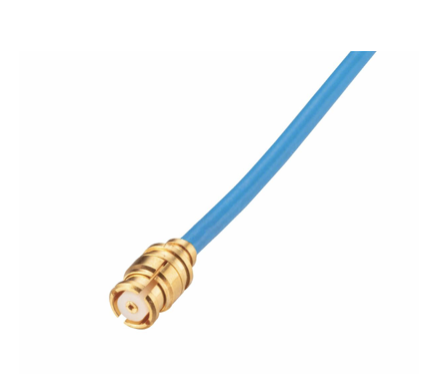 Times Microwave Systems, the preeminent brand in innovative RF and microwave interconnect assemblies, cables, and connectors, introduces its new TF-047 micro-coaxial cable, offering high performance and reliability in a compact footprint. TF-047 a versatile SwaP-C solution with extensive connector capability.
TF-047 is compact and flexible for easy routing in space-constrained areas, with an overall diameter of 0.055 in./1.40 mm and can support bends as tight as of 0.20 in./5.08 mm. TF-047 is optimized to perform from DC to 50 GHz.
The new, lightweight TF-047 micro-coaxial cable (maximum weight of 3.77 lbs./1.71 kg per 1000 feet) is available with a variety of push-on and threaded connectors. It is ideal for use in board-to-board, backplane and crossover box-box/inside-the-box connectivity, as well as for bench/production tests, troubleshooting setup, signal fanout and ATE in semiconductor manufacturing. TF-047 will also be useful in quantum computing for external and internal RF lines, and in laptops, tablets and audio/video products.
TF-047 is even ideal for many medical applications like flexible catheters, medical imaging and patient monitoring applications. Micro-coaxial cables enable next-generation devices to deliver advanced treatment or high-resolution imaging. They are a key building block for highly integrated medical cable assemblies with improved maneuverability and safety.
"Times Microwave Systems' new TF-047 adds another dimension to our lineup of micro-coaxial cables, along with our InstaBend™ 047, SF-047 and Phasetrack®-047 products. It allows us to offer a versatile range of micro-coaxial cables for many of today's more challenging installations."
-Kai Loh, Product Solutions Manager at Times Microwave Systems
Times Microwave Systems' TF-047 micro-coaxial cable is available now as bulk cable or assemblies, with a short lead time in standard configurations or can be customized to meet an application's specific needs. For more information, please visit https://timesmicrowave.com/cables/tf-047-2/.