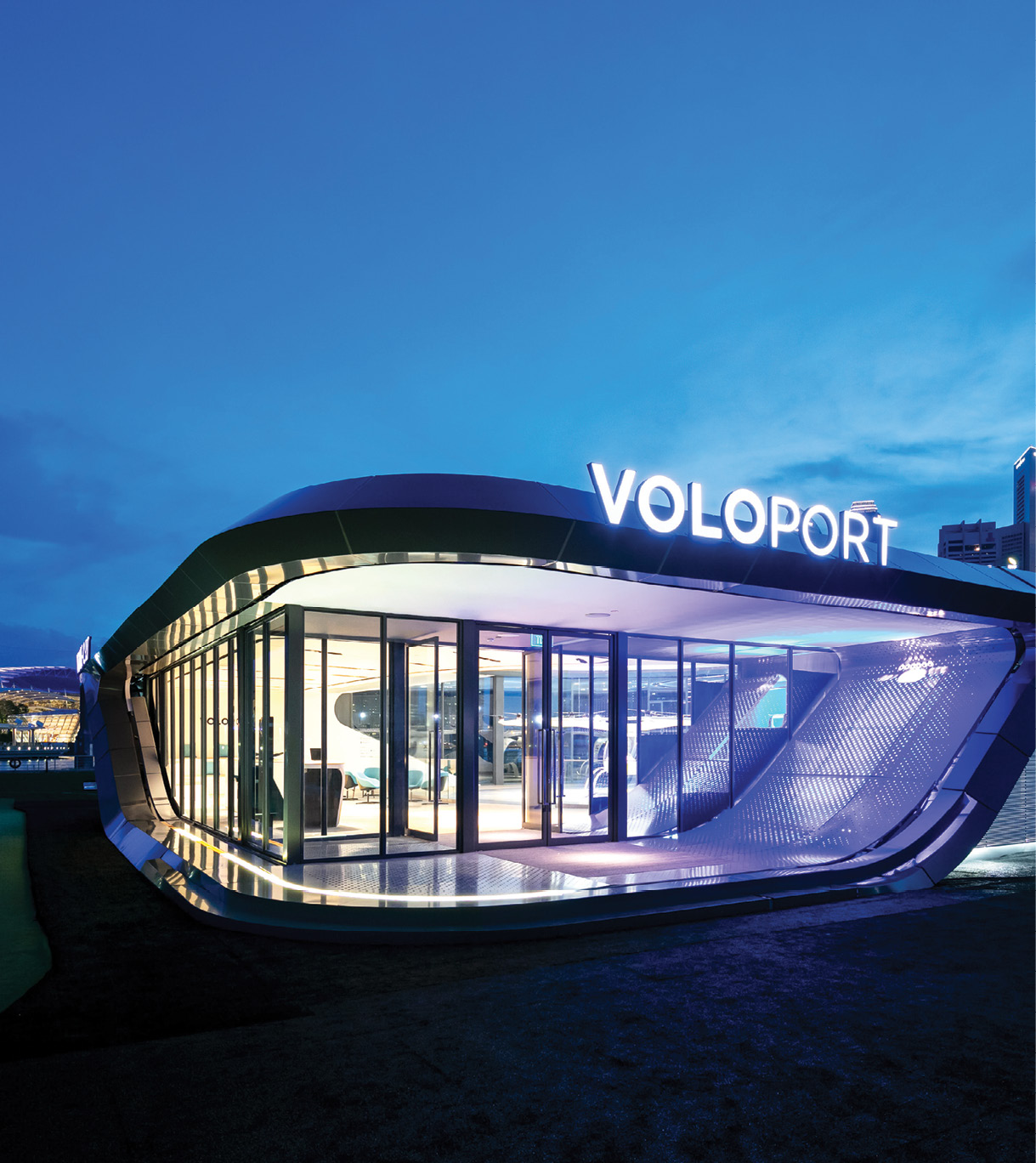 Companies around the globe—from legacy aerospace titans to agile startups—believe electric vertical takeoff and landing (eVTOL) vehicles are the runway-independent technological solution for our transportation needs. They can unlock potential in urban areas in ways traditional-engine aircraft simply can't, with benefits such as maneuverability, efficiency, environmental enhancements and noise reduction. Thus, a new generation of innovators are working on an estimated 250 advanced eVTOL concepts in an effort to bring Urban Air Mobility (UAM) to life.
A slew of new multi-rotor, fixed-wing and tilt-wing air taxi concepts, loaded with sensors, cameras and radar, are being developed to autonomously connect cities and even regions. Some are in the experimental test phase, while others boast thousands of test flights in the pursuit of certification in countries around the world.
To move from experiment to limited service to commonplace, a range of technological hurdles must be overcome—from eVTOL's size, weight and power balance issues to propulsion, efficiency and endurance constraints. Technologies need to enable airworthiness and infrastructure, provide safety and demonstrate efficiency—all while being cost-effective.
These challenges, however, are igniting collaborative efforts. Uber is partnering with key manufacturers developing eVTOL aircraft for aerial ridesharing. NASA has signed Space Act Agreements with 17 aviation companies to advance plans for the AAM (Advanced Air Mobility) National Campaign technology demonstrations, addressing safety and integration barriers, focusing on operational challenges and identifying requirements for system development, with testing scheduled for next year. The Air Force's Agility Prime program is designed to accelerate the commercial market.
Indeed, eVTOL technology appears poised to usher in a new transportation ecosystem.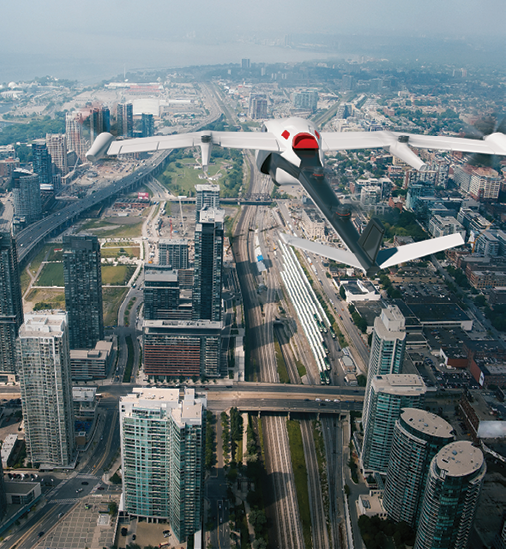 NEW-ERA AVIONICS
One of the companies going "all in" on the UAM effort is Honeywell Aerospace. With its products and services found on legions of commercial, defense and space aircraft, the Charlotte-based company is partnering with UAM leaders to apply its advanced avionics technologies to their eVTOL designs.
"UAM has such a promising outlook right now, but these are small electric vehicles, so that's a big technology challenge for our team," said Mike Ingram, vice president and general manager of Honeywell Aerospace Cockpit Systems. "We're rising to that challenge."
For Ingram, eVTOL presents an opportunity to reimagine flight in new and exciting ways—beyond the heavy components and pulley systems of the past.
"Older aircraft have a lot of interfaces, but with these new vehicles we have a clean sheet to define high-speed interfaces, connectivity and protocols in ways like never before," he said.
In that context, Honeywell is offering original equipment manufacturers (OEMs) state-of-the-art avionics, solutions and flight systems to help them overcome eVTOL constraints and operate autonomously in complex urban environments.
"We give these tools to the OEMs so they're able to iterate multiple times to get to a solution that makes their aircraft stable in flight so they can meet some of the regulatory Federal Aviation Authority (FAA) requirements that will make them certifiable," Ingram said.
One of these tools, Honeywell's compact fly-by-wire system, is designed to enable UAM autonomy, offering a triplex architecture, lockstep processing and other features—all in a package smaller than a hardcover book.
The company is also focused on collision and avoidance, Ingram continued. When urban taxis encounter non-cooperative targets like birds or a small balloon, they'll need high-resolution, low-weight radar. Honeywell has been working on a product called the RDR-84K Band Radar System, a software-based radar that scans for terrain and identifies small objects so the vehicles can avoid them.
"For an airliner flying at 30,000 feet, it's pretty straightforward," Ingram said. "In the UAM space, there could be tens, hundreds or potentially thousands of aircraft in the air someday, and much of that collision avoidance has to be automated. Our radar is integrated into the fly-by-wire and flight management system so that all of it works together in a coordinated way."
Because eVTOL air taxis are notoriously size and weight-sensitive, Honeywell is adapting and scaling proven systems to meet strict OEM requirements. "Batteries, whether they're full or empty, weigh the same, unlike a fuel engine," Ingram said. "Some all-electric aircraft concepts dedicate over 60 percent of the weight to batteries. Then you add on the body, motors and seats, so it's critical that our avionics and components are as minimal as possible."
Another important aspect of eVTOL technology is power. Adding to its decades of experience in electric and hybrid-electric propulsion, Honeywell is teaming with DENSO, a global leader in electrification technology, to create lightweight, powerful motors for UAM vehicles.
Companies will be manufacturing large volumes of these air taxis in the future, and Ingram pointed out that the overall business case needs to balance out. "Manufacturers will be challenged to meet the needs of Uber and other taxi services that will likely pop up, so we have to build these as low-cost as possible to maintain margins," he said. "We'll start to see more creative business models come out of this, such as spreading the cost of equipment out over time as a sharing model. There are a number of things everybody is thinking about right now."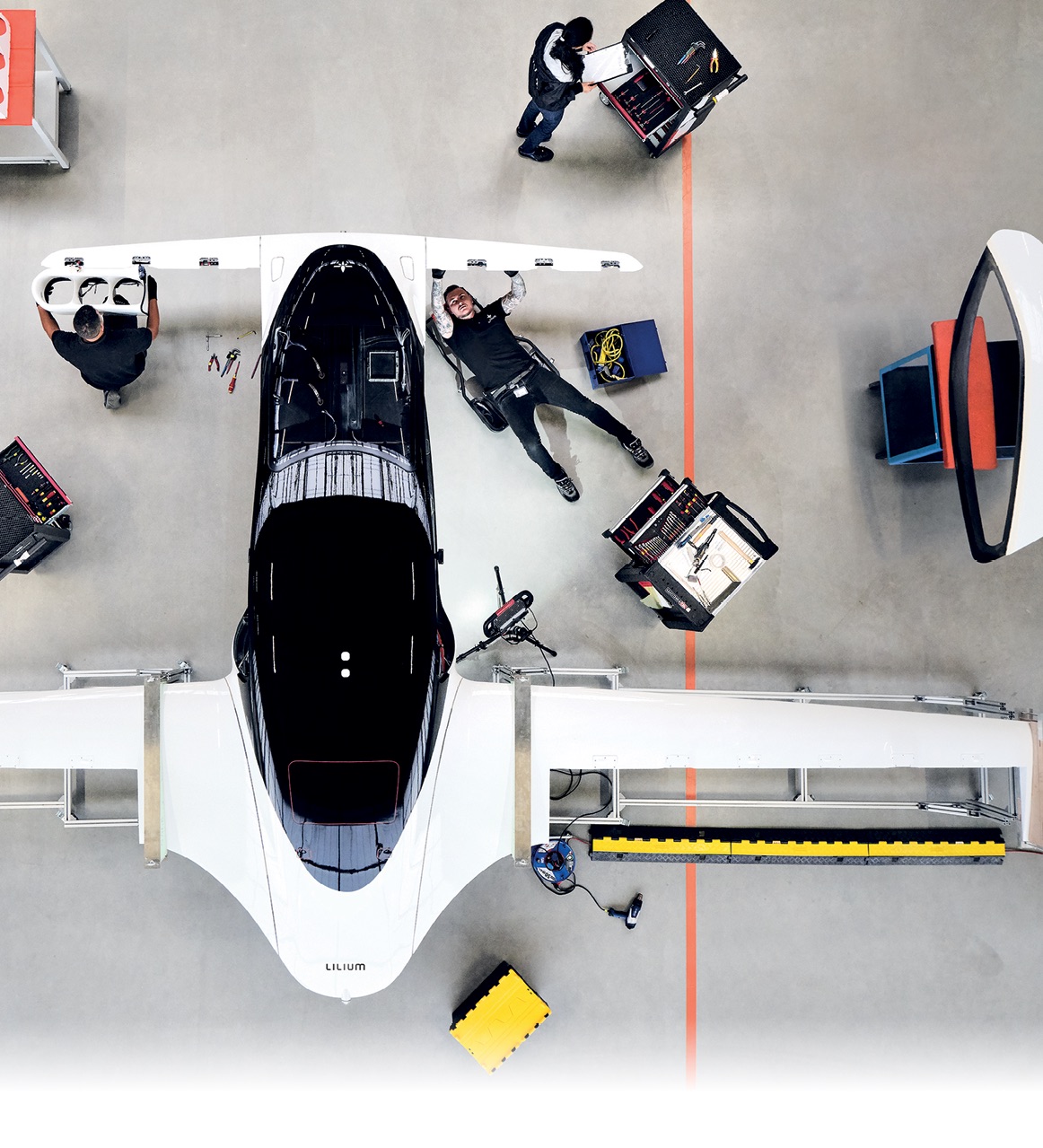 THIRD AERIAL REVOLUTION
Tomasz Krysinski, head of research and innovation for the Helicopters division at Netherlands-based aerospace titan Airbus, believes UAM is the third historic wave of aerospace technology. The first wave began in 1914, when paid commercial flight debuted, the second when helicopters first entered the market. Now, we have UAM air taxis.
"We're living in a time of disruption," Krysinski said. "Whenever converting technology allows this kind of breakthrough, it opens the doors for new markets and new possibilities. This is a historical moment."
When it comes to developing tech demonstrators, Airbus has taken an unconventional approach. The company established two separate teams—one in Germany and the other in Silicon Valley—and set them free with their physics. This resulted in two very different test vehicles: CityAirbus, a four-seater, electrically powered, eight-rotor aircraft that can take off and land vertically, and Vahana, a single-seater, electrically powered aircraft equipped with rotors and tilt-wings.
The goal, Krysinski said, was to create designs that rose to those distinct parameters eVTOL requires: power, safety, environmental supportiveness and cost-efficiency.
"For a car to carry four people throughout the city, you need an electric motor with power of 40 kilowatts. To keep hover with four passengers on board an air taxi, you need 400 kilowatts—that's 10 times more," he said. "To be successful, we must be safe, and that's written into our DNA.
"We also have to be environmentally friendly, with zero emissions and low noise. We have the most silent helicopter in the world, with a very specific Blue Edge rotor blade that reduces noise, so that's an advantage." And cost-effective technology increases availability to the widest possible customer base.
"We're leading a revolution," Krysinski said, "so we must put our imagination to work."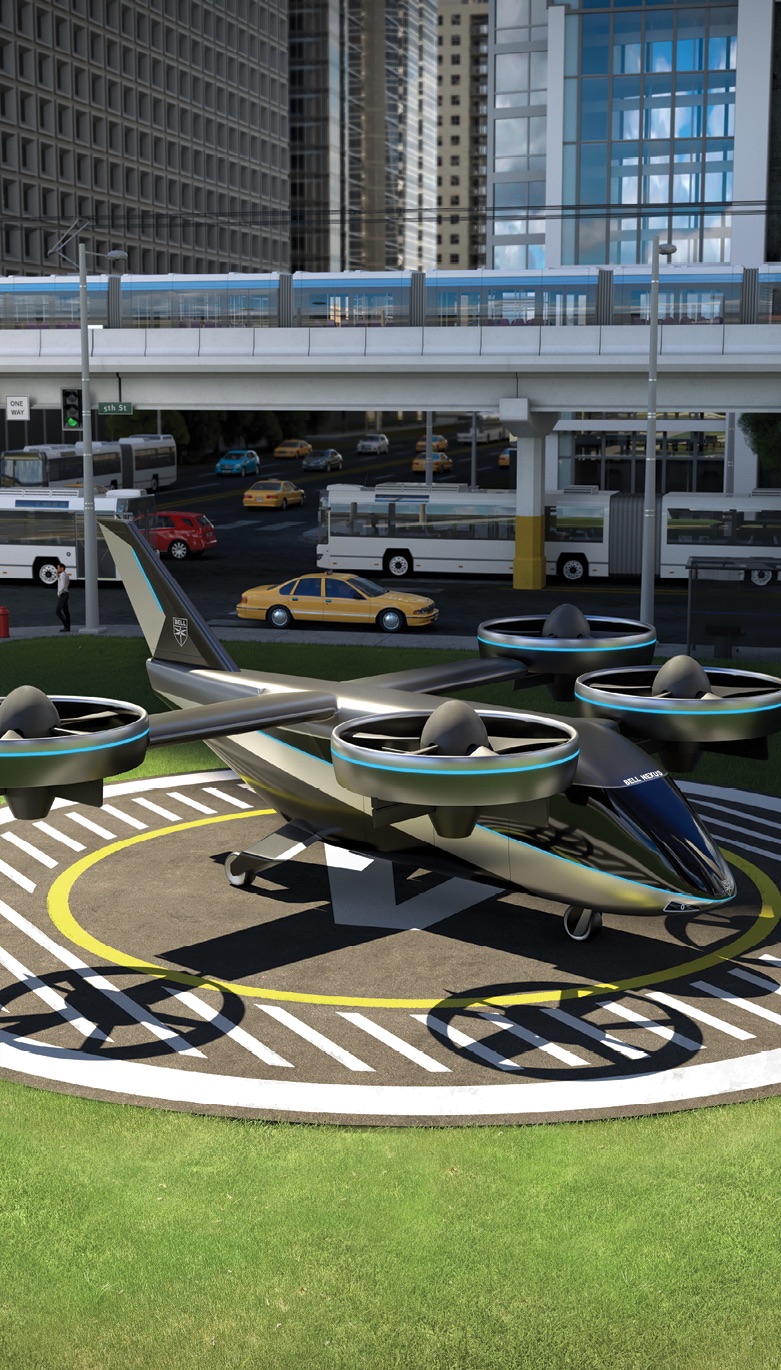 BUILDING FLIGHT'S FUTURE
Another company putting its imagination to work is Manassas, Virginia-based Aurora Flight Sciences. Known for its expertise in unmanned aerial vehicles, this Boeing subsidiary, in partnership with Boeing NeXt's division, is developing a self-driving air taxi prototype that serves as an experimental aircraft and testbed.
Senior Vice President of Programs Brian Yutko considers the development of these autonomous and electric aircraft to represent a new frontier. While the look and design of traditional airplanes have always been constrained by their engine configuration, Yutko noted, that's not the case with urban air taxis.
"When you have a transmission-agnostic system like electric, you can route wires and put rotors wherever you'd like," he said. "That opens up opportunities to think outside the box. So, we thought, 'if we were to make an electric machine, how would we configure it?' We ended up on a configuration that you see in PAV."
PAV is short for Passenger Air Vehicle, Aurora's autonomous two-seater eVTOL that uses eight distributed electric rotors to take off vertically, and a fixed wing and cruise propeller to unlock longer distances. It allows the company to study the enabling technologies, certification processes and regulatory requirements the Aurora team believe will lead to safe, sustainable and seamless on-demand mobility.
Yutko noted that while most of the hand-wringing around eVTOL constraints centers on battery weight, PAV testing has revealed a less talked about, yet no less critical, element: thermal performance.
"If you're sitting around hovering, that's a high power state and the system can heat up quickly," he observed. "We found that monitoring those thermal limits is pretty important when designing these systems."
It's not just temperature management, Yutko added—infrastructure also matters. "What's fascinating is these electric vehicles impose these really interesting new constraints—and freedoms—in a couple different dimensions that we've never seen before."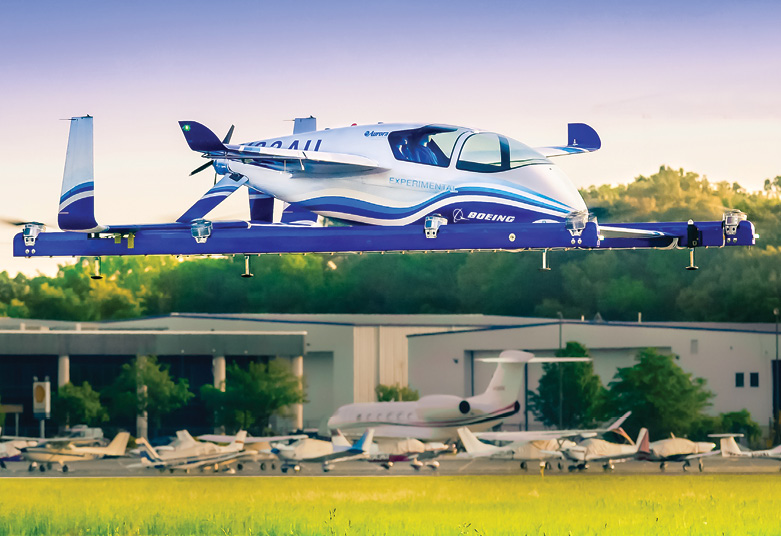 REVOLUTIONIZING TRAVEL
The freedom of design Yutko cited is evident in the sheer range of concepts in development across companies. Munich, Germany-based air taxi startup Lilium, which recently completed a notable funding round worth more than $240 million, boasts a full-scale technology demonstrator called the Lilium Jet.
The Jet is powered by 36 all-electric ducted engines mounted across 12 independent flaps, with two sets of wings at the rear and front of the aircraft. If all goes as planned and it enters service in 2025, it will transport up to four passengers with a proposed range of around 186 miles/300 kilometers, connecting not just cities but regions.
"In designing eVTOL aircraft, we have to balance a range of engineering requirements, such as delivering a low noise footprint and high cruise efficiency, while ensuring we still meet the very highest safety standards," said Patrick Nathen, co-founder and vice president of product at Lilium.
Why 36 engines? Because redundancy is key, Nathen said, and the platform also creates the optimal balance of payload, speed, range and simplicity for planned missions, plus low-noise operation in city centers. Like Yutko, Nathen points out the flexibility of new platform design compared to traditional aircraft. "The small engines can also be used during cruise flight to control the aircraft, allowing us to reduce the number of typical control surfaces you'd expect to see on a plane—we have no tail, rudder, propellers or gearbox—helping to keep the maintenance and production cost down."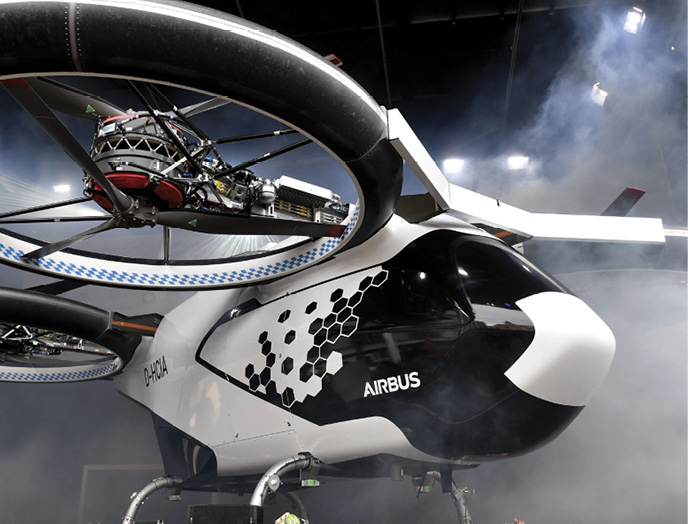 AN ELEVATED APPROACH
Carey Cannon, chief engineer for technology and Innovation at Montreal-based Bell, leads the company's innovation efforts and has more than 30 years of experience in the aerospace industry, including work on the V-22 Osprey troop transporter. From a technology perspective, he sees the rise of UAM as a defining moment.
"This truly is a new phase of aviation," he said. "There's a public acceptance that will need to take place, but under the right certifications and regulatory environment, this can be an ecosystem that helps everyone."
This year at the Consumer Electronics Show, Bell unveiled the latest version of its all-electric Nexus, which is central to the company's quest to turn 45-minute road commutes into 10-minute flights. For this evolved version of the former 6HX design, Nexus features six large ducted fans that reduce drag. A main high wing with a high rear stabilizer also increase efficiency. It too can carry four passengers in flight.
Yet the heart of the aircraft, Cannon noted, is the propulsion system, which, combined with batteries, motors, rotors and ducts, generates thrust in a more efficient and quiet way. "We've been around for a long time, we can build an airframe and we know how to pivot with our tiltrotor background, but if we don't have the propulsion system highly integrated and doing what we need, it won't function as desired," he said. "That's where we're putting a big part of our focus."
Bell is partnering with Safran Electronics and Defense (hybrid propulsion and drive systems), Electric Power Systems, EPS (energy storage systems), Thales Group (Flight Control Computer (FCC) hardware and software), Moog (flight control actuation systems) and Garmin (integration of avionics and the vehicle management computer) to enable a full-scale demonstrator.
Because of the multiple issues needed for UAM acceptability, Cannon thinks it will be a while before UAM vehicles are widely deployed. "I think you're looking at the mid to late 2020s before there are any significant numbers out there. That's our approach and that's what we're saying," Cannon noted. "We're going to make sure that we have the right vehicle, the right level of safety and the right business case. That's when it will hit the market—when all those things align."