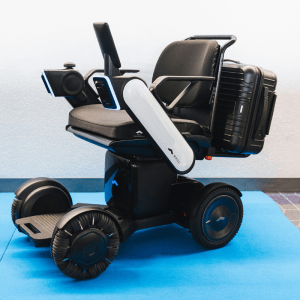 WHILL is testing its personal electric vehicles (EVs) at Dallas/Fort Worth International Airport (DFW) and Winnipeg Richardson International Airport (YWG), with the goal ofmoving the mobility-as-a-service (MaaS) model forward and giving travelers with limited mobility more independence.
The EVs completed trials at Haneda Airport and Abu Dhabi Airport earlier this year and Amsterdam Airport Schiphol, according to a news release. Both semi and fully autonomous trials took place in Dallas on November 14 and 15, and semi-autonomous trials will take place in Winnipeg on December 12 and 13.
Through the fully autonomous trials, the EV freely drives itself to the destination after the passenger selects the gate, and then heads back to its original docking station. It detects and avoids obstacles throughout the airport and has automatic brakes.
This model combines WHILL's EVs with Scootaround, a personal transportation solutions company. The companies shared vision of improving MaaS worldwide is leading to new products and initiatives, such as the autonomous trials in airports, to meet changing market needs for assistive devices.
"When traveling, checking in, getting through security and to the gate on time is critical to avoid the hassle and frustration of missing a flight," said Satoshi Sugie, Founder and CEO of WHILL, according to the release. "Travelers with reduced mobility usually have to wait longer times for an employee to bring them a wheelchair and be pushed to their gate, reducing their flexibility while traveling. We are now providing an opportunity for travelers with reduced mobility to have a sense of independence as they move about the airport and get from point A to point B as smoothly as possible. Our trials have proven to be successful in other countries and we're excited to bring this initiative to North America for the first time."