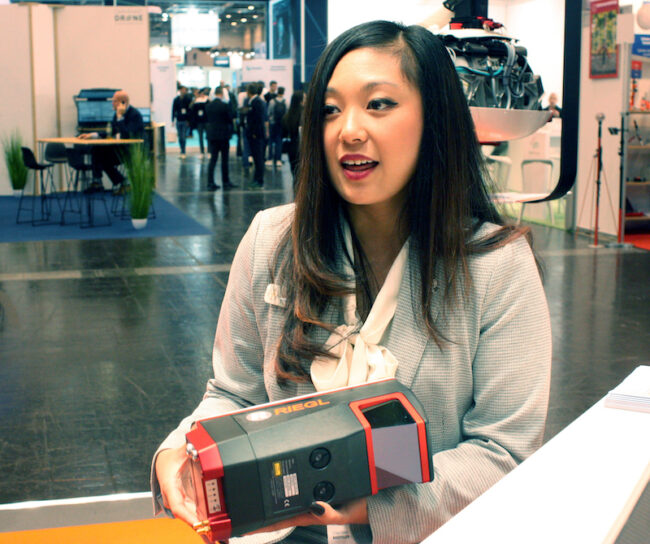 The recently announced VUX-160-23 is a lightweight LiDAR module that makes Riegl's renowned, high-performance technology easier than ever to integrate and use. My-Linh Truong, Division Manager, Unmanned Laser Scanning at Riegl USA, told Inside Unmanned Systems, "We're talking about a 20-minute installation process. So you can set this up in no time at all and it weighs just 2.65 kilograms, so it is very light and very well suited for anything from a small UAV to manned airplanes and helicopters."

The VUX-160-23 is the sister of Riegl's well established VUX 120, which came out in 2020. Truong said the new unit has a 100 degree field of view while its nadir/forward/backward (NFB) scanning feature records more detail that a conventional LiDAR scanner. "Essentially, we're getting a 3D element," Truong said. "The measuring beam is consecutively emitted in three different directions, so it's scanning at three angles every time it passes over a target: straight down at 90 degrees to the ground, but also looking forward at a ten degree angle and looking backwards at a ten degree angle." This allows data capture of unmatched completeness, especially in complex terrains with vertical and irregular surfaces.

The unit's performance specifications are impressive: laser pulse repetition rate up to 2.4 MHz; measurement rate up to 2,000,000 measurements/second; and scan speed up to 400 lines/second. Meanwhile, cutting edge RIEGL technology provides echo signal digitization, multiple target capability, online waveform processing and multiple-time-around processing, and it has interfaces for up to 5 external cameras. Data storage is via internal 1Tb SSD memory and removeable CFAST memory card. Riegl has a long-standing relationship with Applanix, a Trimble company supplying key internal GNSS and inertial sensor devices for precise positioning and geolocation functions. The new unit is also equipped with interfaces for integration of an external INS/GNSS system.

Working better

"One of the things you're going to see with the VUX-160-23's higher 2.4 MHz pulse repetition rate and the high measurement rate is improved ground coverage," Truong said. "More detailed measurements and faster flights means you cover more ground per air time, and that's another way of saying higher productivity, which is something our customers definitely understand."

As far as applications go, Truong said, "This is well suited to corridor mapping, power lines, railway tracks and pipeline inspection, for example, where you want a long-endurance system and you may need to work in challenging environments." Other key application areas will include topography in open-cast mining, surveying of urban environments, archeology and cultural heritage documentation, and agriculture and forestry.

The Riegl VUX-160-23 was launched during InterGEO 2022. Truong said customer interest is high and preordering of the unit, which will be available in 2023, is now underway.